Back
ROYALE (ENFIELD)
4024 Z150
ZIRCONIAN SMOOTH BLACK LEATHE
Casual leather street riding jacket
City-style jacket with open hand pockets one piece back
Bi-Swing action back for greater movement
Chrome side buckles
Chrome hardware
1 Interior pocket - button-closed
Black rayon lining
Full leather inside facings
1 Zip-close exterior chest pocket
2 Zip-close exterior hand pockets
ID key fob embossed with garment unit-number for reference
Windtight low-bulk zip close sleeves
Underarm ventilation grommets
Leather windflap
Warning: Last items in stock!
Availability date: 02/03/2020
When the Vanson Zirconian Black Leather ROYALE (ENFIELD) JACKET was first conceived, the idea was to trim out the fit of the full-cut Vanson Enfield mens jacket to have a more contemporary model to add to our Metro Collection. Much of the Metro Collection consists of the "old" becoming "new" again. But the ROYALE (ENFIELD) JACKET is really more about current styles than a reproduction of something from the past.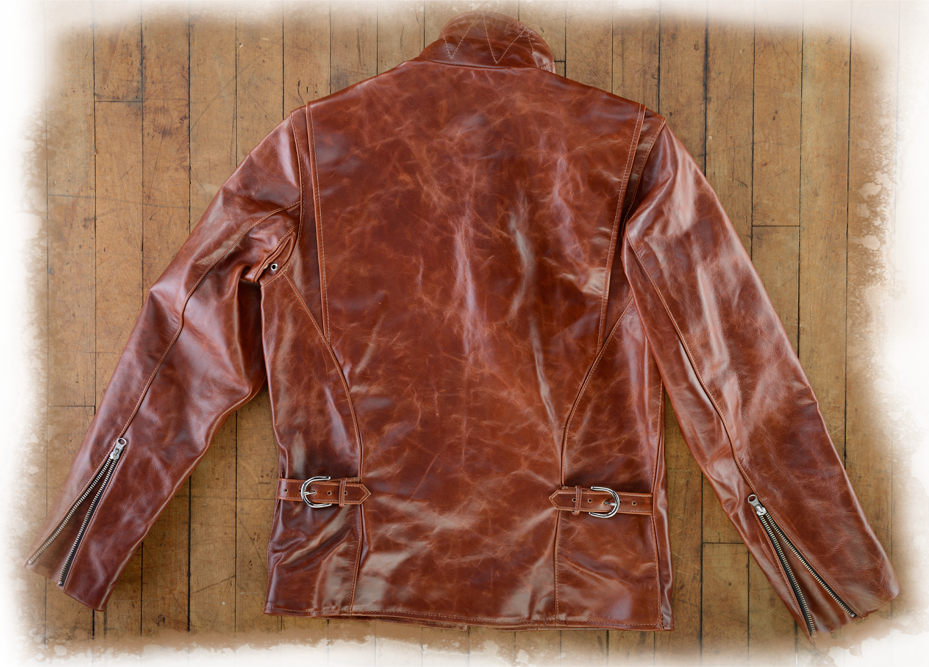 In some ways a leather motorcycle jacket reflects the mood of the country at any given time, and in that sense it becomes a product of those times. So it is with the Vanson ROYALE (ENFIELD) JACKET. Ronald Reagan was president and the country was feeling confident once again - comfortable in its abilities, not afraid of standing for an ideal, moving ahead in what seems in retrospect to have been a simpler world. These sentiments are captured in the design elements of the Vanson ROYALE (ENFIELD) JACKET. They include: casual in the use of a shirt-style collar…comfortable in the use of open-top, leather-lined hand pockets…confident in the use of large panels with a one-piece back that requires careful hide selection and cutting. Vanson's version of the ROYALE (ENFIELD) JACKET is a modern classic-casual shiny zirconian black leather mens jacket…an expression of American confidence and surefootedness in an unpredictable, wobbly world. 
SIZES;...32..34..36..38..40..42..44..46..48..50..52..54..56..58..60..62
Size 42 - Chest measures 47.5 inches = Normal ease is 5.5
Back length is 27
These jackets are classic slim American fit and style:.
Meant to fall between beltline and hips.
Bottom sweep - circumference is 44 inches
We are currently compiling our list of testimonials. We should have these posted soon.