Back
FIVE POCKET JEAN
VNJ1 A153
ARMY 1010 GREY - WAX COTTON
Textile waxed cotton canvas pants
Five pocket jean - clean cut and original style
WAX (tin) to easily recondition wax-cotton sold separately
Black oxidized side buckles
Beltloops - long - for 2-inch-wide-belt
Stress points reinforced with rivets and or burrs
Straight-cut leg
Tack-button close waistband
2 Front open hand pockets
2 Rear patch pockets
Watch fob pocket (small)
Brass zippers
Warning: Last items in stock!
Availability date: 02/03/2020


For lighter-weight comfort and classic jeans styling, Vanson 5-Pocket Jeans are a smart choice.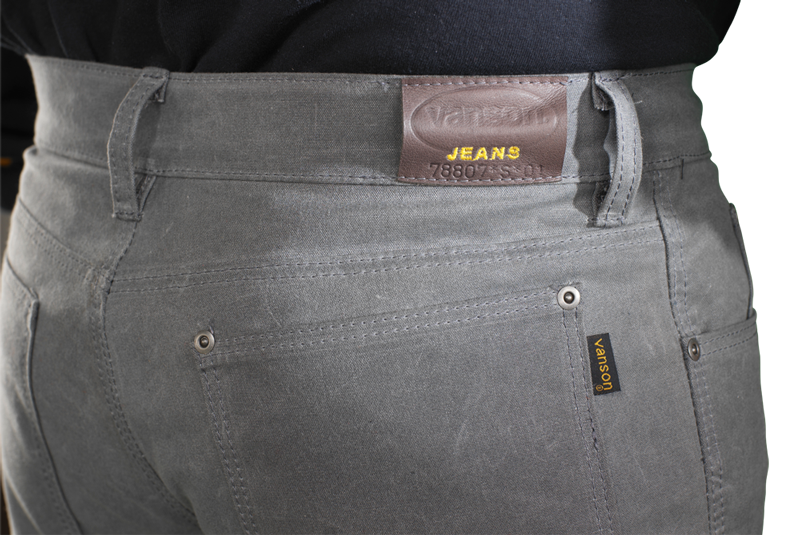 The VNJ1 is a basic jean cut. For some added protection, we offer these jeans in Army Duck 10.10 Waxed Cotton. Comfort, coolness and extra protection when you need it.
SIZE.....28..29..30..31..32..33..34..35..36..37..38..39..40..41..42..43..44
SIZE 34 ---Waist measures 36 inches -------Ease is 2 inches
Outseam is 43 ---Middle Inseam is 32 ---- Hip is 41 -----Ankle is 17
Middle Crotch to Mid-Knee is 15 inches.
Knees are padded and quilted and shaped for comfort and ease of movement.
Inseam length is offered in 30 --32 --and 34 lengths. Knee height is
adjusted accordingly for each inseam length offered.
We are currently compiling our list of testimonials. We should have these posted soon.