Back
LETTERMAN JACKET
V403 E350
OLIVE GREEN BODY + CREAM SLVS
Bomber slim fit leather jacket
Updated flight w/snaps + zip front and self-edge knit trim
Knit waistband and cuffs
Knit collar
Snap front
Zip front
1 Interior pocket sewn vertically to front facing
Black quilt lining
Full leather inside facings
2 Front open hand pockets
ID key fob embossed with garment unit-number for reference
Chrome hardware black cap snaps
Chrome zippers
Warning: Last items in stock!
Availability date: 02/03/2020
The word "varsity" is used attributively in the U.S. and Canada to describe a sports team made up of talented older high school or college students.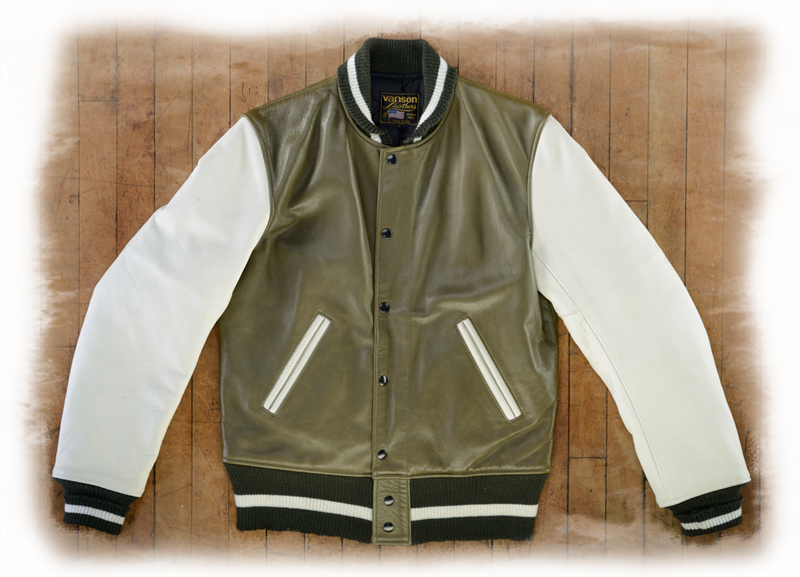 Only the best make it to a varsity team…and only the best of the best get to wear a VANSON LETTERMAN JACKET.  From the dual-close snap and zipper front, to the carefully hand-made self-edge knit used at the collar, wrists and waist…this is a true reflection of the youthful Vanson craft.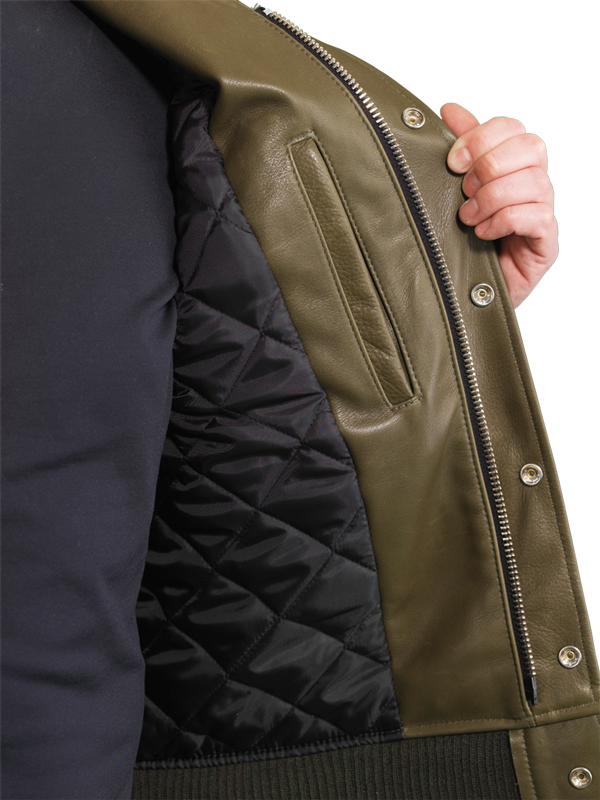 Craft following function, self-edge knit waistband and cuffs are made from a single ply which keeps the knit from being folded, heavy and bulky. The result is a light and elegant elasticity that enhances the fit and comfort of the jacket. Self-edge waistbands are made one at a time, by hand in Minnesota.  Knitted flat on a slow machine, watched over by an experienced operator, controlled by punch-card type paper tapes, each piece is a little different from the next one. In contrast, modern knitting is done on ultra-fast circular, robotic machines which can spit out so many thousands of parts that the completed knit is sold by the pound.   
Cut in a slim and sophisticated fit, the VANSON LETTERMAN JACKET is an expression of achievement and success. Meticulously made, with special attention to every detail, every line and seam speaks to a high standard of quality and comfort. Everything about this handmade classic jacket speaks to a polished, urbane, confident lifestyle. 
SIZES.........1XS......2S......3M......4L.....5XL.....6XXL....7XXX....84XX
SCALE......32..34..36..38..40..42..44..46..48..50..52..54..56..58..60..62
Size MED-(SZ 42 Chest measures 46.5 inches ---NORM FIT (4.5 of chest ease)
Back length is 28 --Front 24.5 --Sleeves are 36 Nape of neck to Wrist.
jacket is meant to cover the beltline. Jacket Sweep 42 inches.
NOTE: ALL MEASUREMENTS ABOVE ARE FULLY EXTENDED WAISTBAND ETC.
.....Expected measurements with normal waistband + cuff draw-up is ::
......BACK LENGTH +- 26
...All knit is self-edge and meant to be folded by the wearer so sleeve
.....lengths are highly adjustable to fit.
We are currently compiling our list of testimonials. We should have these posted soon.