Back
FULL THROTTLE JACKET
DRAC Z150
PERF ZIRCONIAN BLACK SMOOTH
Vented and Armored leather street cruiser jacket
AirCurtain cool leather motorcycle cruiser jacket
Backpad optional - will accept optional backpad
CE approved F.A.S. armor at elbow
CE approved F.A.S. armor at shoulders
Dipped back and kidney panel for secure windtight fit
Snap collar
MiniPerf - Tight perforation pattern leather panels
Armor access zipper in lining to adjust or remove armor
Ventilated mesh lining
2 Zip-close exterior hand pockets
ID key fob embossed with garment unit-number for reference
Racing suit style wrist zippers with shaped zip guard
Underarm gusset for enhanced movement
Windtight low-bulk zip close sleeves
Chrome hardware black cap snaps
2 Rear zip-close exhaust vents
AirCurtain vent system - patented
Patented RamAir sleeve vent system
Underarm ventilation grommets
Leather windflap
Warning: Last items in stock!
Availability date: 02/03/2020
As Miss Vikki in the Vanson Showroom once said: "If a Cobra 2 and a Drifter had a baby – what would you get? You'd get a DRAC!"
Back in 1995, when we first worked on designs with variable venting, the idea was to allow airflow into the jacket to cool the rider without creating a billowing puffed-up bag of humanity coming down the road. You know the look. We've all seen a guy like this – jacket filled with air, holding onto the bars for dear life with the wind trying to rip him off his bike. Not exactly a comfortable ride. Until another Vanson innovation solved the problem.
Most so-called vent systems were nothing more than zipper slits - when open they expanded the jacket shell forming an air brake around the rider. See this and you'll know that any protective armor in the jacket has probably shifted. Crash forces twist an oversized garment around, with the protection areas likely to move away from points of contact, leaving little or no benefit from having the armor in the first place.
Our patented innovations all start from the principle that controllable air-flow and protection don't have to be mutually exclusive. All our venting is controllable, and allows air to pass through the shell by making the vent area non-stretchable but air-permeable, so the shell keeps its correct shape, the protection stays where it should be, and the jacket itself does not become (literally) a drag on the rider.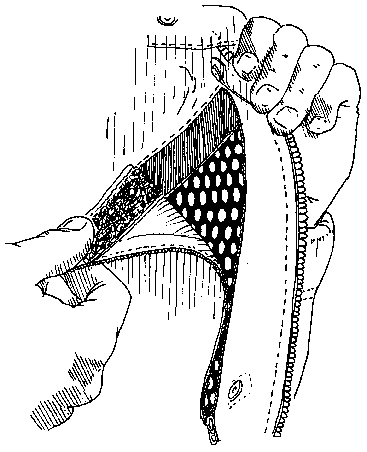 Full Throttle jackets use our Air Curtain Vent System (US patents 5507042, 6883178, 6868557) in the front panels. Behind the perforated leather front panels are water- and air-proof nylon curtains that can be
unzipped and rolled down for airflow. There are two exit vents on the back near the underarm. Opening both front and rear vents lets air flow through the jacket shell.
The Sleeves use our patented RAM A.I.R. Vent System (US Patent 5704064), with a zippered vent safely at the crook of the elbow for air to enter, flow past the armpits and exit through the rear vents. Under the entry vent is a heavy mesh that keeps the sleeve from expanding – while the outer material of the sleeve forms an air scoop.
Enhanced protection comes from our F.A.S. - Floating Armor System (US Patents 607274, 6260196) – which attaches shoulder and elbow armor with a Velcro harness for easy adjustment or removal. This allows the rider to move while the armor stays in the right place.
We incorporated these technical features in the basic shell of our Drifter jackets which feature a relaxed comfortable fit ideal for touring or just kicking about. We make these for both Men (DRAC) and Ladies (DRCL).
Sizing is ................XS..Sm..Med..Lge..Xlge..XXL..XXXL..XXXXL
Chest size Scale..........36..39..42...45...48....51...54....57
Chest Measurement MED (SZ 42) 47 inches -----Norm Ease is 5 inches
Cruiser fit
Backpad is optional. Sleeves are pre-curved
leather beading for a low-bulk finish. This jacket has a trim fit
not as tight as a Sportrider jacket. Back length on a Medium is 26 inches.
Nape of neck to wrist 35 in. ------Center Front Length is 20.75 in.
Bottom circumference sweep is 42 inches.
Mike Vicente is Nailing the Selfie Game!

(Warning: long gear-review post ahead)
Actually, I snapped this shot on Saturday to highlight my new #Vanson 'Full Throttle' jacket. I don't often post about gear, but after putting this jacket through it's paces and a couple thousand miles, I'm SUPER pumped on it and wanted to share my thoughts (for street riding).
Living and riding here in Southern California the riding season is really year-round with temps ranging from high 30's/ low 40's to 110+. I've been on rides where the temperature has swung +/- 50 degrees over the course of a few hours. To deal with these types of temperature differences across various CA terrain/climates, I need some versatile gear. On top of that I have to know my gear is going to offer the best crash protection, AND it'd be great if it looked good while checking off the other boxes.
The Vanson 'Full Throttle' is amazingly versatile, primarily due to it's incredible ventilation system. The chest panels are mini perforated which allow for good airflow. But the magic with the Full Throttle is that this ventilation can be controlled. Wait, what? How can perforations in the leather be controlled you ask? Vanson uses their "Air-Curtain" design here which is essentially a second layer of wind/waterproof nylon behind the perforations that you can zip open/closed from the inside of the jacket! So you can leave for a ride at dawn with the air curtain zipped shut, and then open it up later in the day as temps rise. Genius!
No joke, these are THE BEST vents I've ever encountered in a motorcycle jacket over my 30+ years of riding.
As great as the Air-Curtain design is, to me the ventilation stars of this jacket are the huge ram-air vents located along the inner elbow of each arm. These 7" controllable vents are SO much more than just a zippered slit in the leather. These things are engineered with an interior mesh which maintains the structure of the arm and keeps your elbow armor in place whether the vent is closed or open...some incredible thought went into this design. Also when I said these are ram-air, I wasn't kidding. The design is such that when you open/un-zip these vents the bottom portion forms a substantial "scoop" and funnels TONS of air down your arms and past your pits. No joke, these are THE BEST vents I've ever encountered in a motorcycle jacket over my 30+ years of riding. (Pro-tip: I attach stealth zipper pulls to these vent zips for glove-friendly opening/closing at speed).
But here's the thing, if you're going to pump this much air into your jacket you'd better have a plan for what happens with that air...unless you are deliberately going for that whole Michelin-man look. I mentioned that Vanson has incorporated a ventilation SYSTEM into this jacket, and the inclusion of rear exit vents are the unsung heroes of this system. Not much more to say here other than they work and that at speed you'd blow up like a balloon without them.
So, ventilation is covered. With all the vents closed my thin CA skin is comfortable in this jacket down to low 60s/high 50s. Below that I'd prefer to throw on an insulating layer. (I typically carry a Marmot Windshirt spring/summer and include an ultralight down vest/jacket during fall/winter). The cut of the 'Full Throttle' comfortably allows some layering. On the upper end of the temp range I've run this jacket into triple digits. At 100+ degrees no jacket is "comfortable", but if I knew the forecast was going to be 100+ all day, I'd probably reach for my Motoport over this Vanson...UNLESS I needed to look great once I got to my destination...then I'd choose the Vanson.
Regarding rain, I don't yet have a good solution for this jacket. I've heard Frog-Toggs are a decent option? But if rain is in the forecast I'd likely opt for my Aerostich Transit 2 Goretex leather.
As far as protection goes this jacket has CE rated elbow and shoulder armor standard and back armor is optional (buy it). And it's a Vanson, so the construction is next level. I've visited the Vanson factory in Fall River, MA and my eyes were opened regarding how these pieces are developed. This gear is BUILT. Every seam and stitch is considered when it comes to protection. Made in the U.S.A.
I don't believe there is one 'perfect' motorcycle jacket...but I have yet to find one that comes closer than this.
That said, the 'Full Throttle' is not made with the famous Vanson 'Competition grade' leather at 1.3-1.4 mm thickness. Rather, Vanson uses what they call their "Zircon" leather for this jacket and they identify it as 'medium weight' at 1.2mm thickness (3 oz). I have another Vanson built with their Competition weight leather and there is a difference in thickness (and break-in time). For track days I would opt for the comp weight. However, the Zircon leather is more than enough even for aggressive canyon strafing. I'd say Zircon is at least on par if not better than the vast majority of other manufacturers' motorcycle leather, with the Competition weight being superior to anything else on the market. Note that for an additional cost you CAN special order the 'Full Throttle' in Competition weight leather if you'd like, though the perforations in the chest panels will be standard sized, not mini.
Which brings me to yet another amazing differentiator for Vanson. They do tons of custom work. For instance, the off the rack sizing of the 'Full Throttle' didn't quite fit me in the sleeve length, so I sent it back and they adjusted the length for a perfect fit. Different colors? Yup. Special features? Sure. Custom lettering/logos? No problem. Just let them know what you're thinking about and they'll most likely be able to make it happen for you. Of course this all comes at a cost in both time and money. However, for a jacket that you will own for not years, but very possibly for decades, this will all be worth it in the long run.
And finally let me talk about looks. As they say, beauty is in the eye of the beholder, but c'mon, this jacket even makes ME look good! I think it's an amazing looking jacket with clean, classic lines. There are a lot of good looking jackets out there right now. However, I think you'd be VERY hard pressed to find something that looks this good, is this versatile, fits this well, and will protect you half as well as this Vanson 'Full Throttle'. Heritage. Pedigree. Authenticity.
I don't believe there is one 'perfect' motorcycle jacket...but I have yet to find one that comes closer than this.
-- Mike Vicente